Only three NBA teams finished with fewer wins than the Los Angeles Lakers in 2014-15. While part-owner and President Jeanie Buss has said the team has a three-year window to win a championship or major changes will be made, that sort of rhetoric holds little substance for the team and its fans heading into this season. Los Angeles took a positive step in the right direction at the NBA Draft but missed out on several key free agents.
While some people are happy that the team didn't ruin it's financial flexibility in the future by doing something silly like maxing out Greg Monroe or Rajon Rondo, the majority of fans are disappointed that the team probably didn't do enough to compete this season. And with Kobe Bryant aging, maybe they should have done more. At any rate, here is the best- and worst-case scenarios for the Lakers this season.
Best-Case Scenario
Julius Randle returns after missing his entire rookie season because of injury and blows up, and 2015 second-overall pick D'Angelo Russell is an exceptional talent. He has drawn comparisons to Russell Westbrook, so if the Lakers have two quality young players that can step in right away and play big minutes at near All-Star level, this team is going to turn it around. Los Angeles missed out on free agents DeAndre Jordan, LaMarcus Aldridge and Greg Monroe, but they did make a deal for Roy Hibbert hoping that he could give them something. That something is likely to be a stronger defensive presence.
They also upgraded at the power forward position by signing Brandon Bass to replace Ed Davis and they added Lou Williams to boost the bench. If Bass and Williams can provide the second unit with some pop along with Jordan Clarkson, this team could be vastly different from last season. Lastly, Kobe Bryant has to come back and play at a high level. Yes, he's not in his prime but if he's still one of the 10 best players in the league, this team can be competitive.
So what's the ceiling for a team with Bryant, two stellar young Rookie Of The Year-type talents, a rejuvenated Hibbert patrolling the paint and a decent bench? Probably about 50 wins and a seventh or eighth seed in the Western Conference. That's if everything goes absolutely right, though.
[related_post_one]
Worst-Case Scenario
The more likely situation for Los Angeles is that they realize they already initiated their worst-case scenario by signing Kobe to a ridiculous extension despite the fact that he is well past his prime and is no longer an elite player. Kobe ends up soaking a ton of cap space and because of that, big-name free agents like Jordan, Aldridge and Monroe didn't want to play with Bryant as the No. 1 man on the team. As a result of that, the team had to settle on retreads like Bass and Williams, who surprisingly nobody wanted at a cheap rate of $7 million a season. And as for Hibbert, he continues to be a giant albatross – only this time, with the Lakers.
And as for the two rookies? Randle is coming off a serious leg injury and he is just starting to recover. He'll be ready and healthy for the season, but who knows what the Lakers have in him. Same goes for Russell. Even if these guys develop into something special, that might not happen for a while.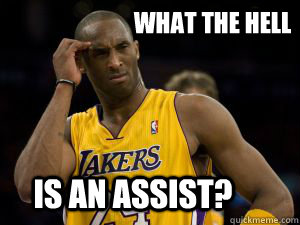 If this team starts slow or isn't competitive by the flip of the calendar to 2016, they are going to be in tank mode…again. Bryant will turn into a sourpuss as he doesn't want to play for a team that's still in the basement, Hibbert doesn't either and head coach Byron Scott won't have a strong enough voice to keep it together.
30 for 30: Roy Hibbert. From All-Star to Cheerleader. @marcelluswiley #Pacers #hibbert #NBAPlayoffs pic.twitter.com/313EGJWDTr

— Matthew Kick (@MatthewKick) May 6, 2014
Unfortunately, this is the more likely of the two scenarios. If the Lakers can even make the playoffs next season, that would be a major success. What's more likely is that they flop once again and finish among the worst teams in the NBA.